Courtney Sanchez
Written by William Jackson | Published August 16, 2010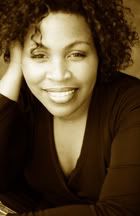 This native New Englander enjoys the experience of music, theater and dance.  She started dance at an early age and which has blossomed into a diversely successful musical theater and dance career. As part of Austin's theater community, Courtney has performed in some of the longest running musicals in Zachary Scott Theater's history, lending her talent to productions of productions of Dreamgirls and Gospel at Colonnus.  Early in 2008, she completed a successful run of Porgy and Bess at the Austin Music Hall, which resulted in a feature article in the New York Times.  She has also performed in just about all the historic venues in Austin, including the Paramount, The State and the Public Domain.
Courtney's love of theatre and Austin's love of the arts keeps her connected with its popular "live music" scene.  As part of the scene, she has performed with Austin's best and most famous live music trailblazers such as Brannen Temple, Guy Forsyth, Patrice Pike and Malford Milligan. Over the last 15 years, Courtney has been collaborating with Austin's award-winning cover band, The Atlantics.  As the lead female vocalist, she and The Atlantics have won the Best Cover Band Award in 1998 and 1999 and have been subsequently nominated every year by the famous Austin Chronicle Austin Music Awards.  In December 2006, The Atlantics were named the best wedding band in Texas by Modern Bride Magazine.
Courtney is the voice of many jingles such as the "Living the Dream" jingle for the University of Texas fight song for the national championship, voiceovers and commercials.  In April, she was a principal actress in Ford/Oprah Winfrey's Big Drive commercial. She has been a featured performer several local Austin events like the Riverbend 2008 Worship Conference, Spirit Groove, as well as a featured Spirit Groove performer at the 2nd Annual Urban Music Festival.  She was also the first runner up in the Ignition 1007 Music Festival in 2007.  Courtney is now branching into new territory, giving Austin its first real taste of female NeoSoul and R&B, with the hit making group SWAY. Courtney has set her sights on embarking on a thriving solo career, writing original music inspired from her personal journal.  Having been compared to Sarah Vaughan, in grace and voice, she looks forward to growing and maturing into a premiere vocalist.
During the day, she and her husband Paul have started a charity called JONAH Ministry, Inc.. They are dedicated to creating lasting hope through the Arts and Music for domestic violence victim survivors.  Much of her day life is spent working with local charities on Arts/music and community service programs, to make this dream of life without violence, a reality!