Written by William Jackson
                     Watching her with great poise and confidence walk towards the microphone as the featured music guest at a recent event in Austin, Texas wasn't what initially caught our attention. The attentive orchestra director at the grand piano seemed to communicate with his eyes to the members of the 30-piece band and to the audience that our ears were about to experience a vocal symphony of music only to be uniquely experienced during this two hour performance, and never again.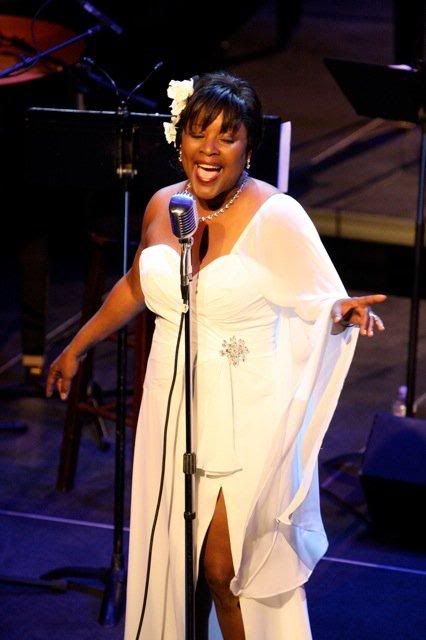 What stopped our collective breath, yet at the same time caused our hearts to pound, was hearing the first note softly uttered from this wonderful mezzo-soprano, the voice of whom many regard as "Austin's [Texas] First Lady of Jazz" as expressed by AustinWoman Magazine.   She is a beautiful woman who steals the heart of any Jazz aficionado; no not just Jazz, but music, period.  Her perfectly phrased renditions of classic Jazz standards, contemporary music and compositions composed just for her, win immediate acceptance by any audience. Pamela Hart remains incredibly beautiful and vocally astute today as she was when she emerged onto the Austin's musical scene 17 years ago.  Standing 5-foot-2 this intelligent, diversely talented songstress turns out to be, one of the most talented vocalist on the local music scene and keeps the attention of music lovers across the waters. 
               There's no doubt the woman is beautiful.  There's no doubt she is one of the finest Jazz vocalists to grace the scene.  With the success of her debut CD, May I Come In? and the numerous musical performances and public appearances, she's currently enjoying a successful period in her blossoming career.  She has a strong and fulfilling marriage and a healthy and incredibly gifted child.  She is an educated woman, and yes, also maintains a secular career. Hold on!  Don't cue the angelic choirs to sing just yet.  This former native of Los Angeles will be the first one to inform you her journey has not always been as effortless as her approach to singing may lead you to believe.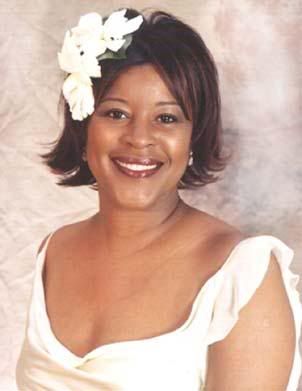 Growing up in California during the 60s and 70s could have been a challenging time for a middle class African-American family.  The racial tension, political upheavals and the carefree attitudes of the 60s would place pressure on even families of the mainstream.  Imagine that of the African-American family who were sometimes not privy to those advantageous available to the mainstream. Yet, she grew up in an environment where basic human values were the foundation.  Values shaped by a spiritual path and strong parental guidance.  Her mother was a single mom most of Pamela's childhood.  She was hard working, yet at the same time enjoyed those playful times, where parents were just parents and children were encouraged to be just children.  Pamela's house was where others came to play.  This enabled her to grow into a strong woman of balance and fortitude--qualities which have contributed to the successful woman she is today.  At the nucleus of this family strength was her dear mother.  As she says, "her mother was a strong woman who put up a vigilant fight because she loved life, and never lost her sense of pride and dignity". 
Among the many wonderful attributes Pamela's mother instilled in her is a love for music and what it does to the soul.  Singing had a way to move people touching the deepest parts of the soul.  Music is powerful!  She learned very early singing was what she loved to do.  Pamela would wait to hear Brad Pride, Jr. signoff his local radio broadcast with "have a ball."  He would play I Had A Ball by songstress Nancy Wilson that also happens to be the first song she performed.  She admits, "My mother made me sing it for company all of the time."  Her mother, a singer in her own right, also enjoyed music and would play popular Jazz music and the music of classic singers such as Sarah Vaughan, Nancy Wilson, Dinah Washington and Johnny Mathis. Because of these early introductions to great music, singing became part of her fabric.  She says, "I wasn't necessarily aware singing was in my blood, it just was."  It wasn't unusual to find her in her room 'singing on top of the records' into her hairbrush, which of course, served as the microphone.   
                Never one to value less the importance of a solid education, in addition to cultivating her love of music, she holds several degrees one of which is a Master's in Business Administration.  She says, "In this competitive world, it's important to take advantage of every opportunity for self improvement and at the same time provide a sense of accomplishment and fulfillment."  These are qualities she and her husband, Kevin, will instill into the fabric of their daughter. 
                Fortunately for music lovers in Austin, Pamela began to sing professionally in 1991.  She discovered Dr. James Polk, an accomplished musician, who taught her everything she needed to know about becoming a successful, Jazz musician.  She says, "People think singing Jazz is easy, but it's very difficult, because you have to know how to communicate with the band, to be a component of the band so as to be in control."   Chemistry is everything.  It's vital to keeping the band members focused on creating a vibe and creatively responding to one another.  Working with Dr. Polk provided the needed guidance to excel in this area. 
Effortlessly performing Jazz music, or at least appearing as if it is, can be challenging, as Jazz is such a unique music form.  Pamela admits, "For me it's staying bold enough to expose myself in the tune and to stop comparing myself to the great singers and accept where I'm in my maturity as a Jazz singer."  As with any artistry, there's a constant molding and maturing of one's talent.  Life's experiences help shape a singer's style.   As a singer experiences a different thing, a song is sang a different way.  The character of the song changes with different understandings and moods.  She believes a Jazz singer is probably more open to new experiences than other singers of mainstream music.  This enables her to 'deliver' her messages and emotions to the audience through the lyric.
                The people of Austin, Texas have been supportive of her from the start.  Since music is very important to the City of Austin as a governmental body, it's financially supportive and provides several grant/contract opportunities.This means there are many opportunities for her to 'deliver' her messages to audiences on a regular basis.
Even so, it's surprising to learn it's difficult for Pamela to prepare for a public performance.  This is due to the fact; it's challenging to select the right tunes.  Time is spent contemplating the audience and what they would like to hear and then balancing that with what moves her as a consummate performer.  She wants each musical experience to be personal and wants to know each song inside and out so at any moment, the delivery can be altered to the needs of the audience.  What makes a 'Pamela Hart' performance so memorable is the experience.  She doesn't memorize the phrasing of a song.  She focuses on remembering the melody and then uses it as a method to lead the band.   Sheer genius and the outcome is the sweetest sound you'll ever hear! 
                If you were to ask her to describe her perfect stage performance, the consummate vocalist would respond by saying the perfect stage performance is yet to come.  It will occur when the sound is great, her voice is perfectly tuned and executed, she and the musicians are in synch and she is relaxed, confident and happy.  Embarrassing things do happen.  For example, she had an early morning performance and her voice wasn't quite warmed up.  She was singing Barbara Streisend's With One More Look at You and couldn't reach the high note.  She says, "When I missed it I said oh my God, I was very embarrassed.  That was a long time ago."
                Pamela loves being in the company of her family.  She regards her husband, Kevin, as her favorite person.  She says Kevin holds this esteemed position in her heart because he is very tenacious about completing a task.  He's very supportive in every way and his love is very apparent and true.  She can always count on him to be Kevin.  No surprises. Not only does Kevin act as her manager, in 1993 they formed the Women In Jazz Concert Series, created to provide performance opportunities and experiences for non-professional and professional vocalists in the Austin metropolitan area.  Each year, Kevin and Pamela attempt to enhance some aspect of the series.  In addition, a Women in Jazz Workshop component was added to teach non-professional vocalists practical performance techniques, demonstrate verbal and nonverbal cues to communicate to musicians, prepare mentally and physically for a performance and continue to learn more about making it as a professional vocalists in the music industry.  The objectives of the Women in Jazz are:
To provide a venue to non-professional and professional female vocalists who are not regularly featured in Austin area venues;
To foster the growth of Jazz appreciation to residents not familiar to this American tradition;
To provide professional development in the performance and music industry to female vocalists;
To provide a promotional opportunity for professional female vocalists who are ready for the recording industry;
To provide quality entertainment to Austin residents who look forward to this concert every year; and
To increase the quality of life for all Austin citizens. 
                The Women in Jazz Concert Series has afforded many opportunities for Pamela to work with a number of amazing and well-known vocalists, which have included Dianne Reeves, Rachelle Ferrell and her personal favorite, Nancy Wilson.   Of that performance she recalls, "It was very special for me.  Here was someone I nearly worshiped all my life and I made it possible for her to come to Austin and for me to be on the stage with her.  I didn't expect her to call me onto the stage, so I was very much caught off guard.  I felt five years old again.  I had to catch myself from acting childish.  Then I was afraid I couldn't measure up.  She felt my anxiety and grabbed my hand and looked into my eyes as if to say, let's do this…be professional.  After that, I had a great time singing For All We Know with Nancy.  We both sing that song in the key of C."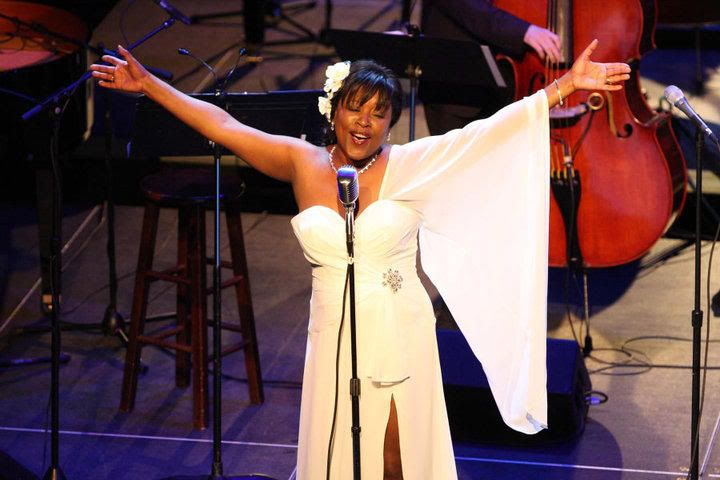 What more does this Award Winning, First Lady of Jazz wish to accomplish in the very near future?  During 2009, the Women in Jazz presented Saxes, Keys and Scats, a concert featuring female saxophonists, pianists and vocalists.  She also expanded her already full schedule to two Texas Jazz festivals.  An exciting goal, which will require quite a bit of attention, is to get back into piano lessons so very soon she'll be able to accompany herself on stage.
               She also will appease the appetite of many Jazz aficionados by releasing her next, what is sure to be another classic, CD.  It will be a combination of traditional and contemporary Jazz standards and originals of course, complemented with spoken word.  She hopes to include compositions by Rich Harney, one of her favorite composers in Austin. 
With Award-Winning talent, an amazing heart, Pamela Hart will surely be a Jazz Tour De Force for times to come.  As she says, "I want to become known for my vocal quality and for my contribution to the Jazz industry as an educator and presenter."  She will because she knows what she's doing.
                This lady who makes the sweetest sounds you'll ever hear, will always clear a path through her music; a positive and clear path.  Pamela Hart is focused on where she wants to go personally, professionally and for many who have come to 'know' her voice, musically. 
Official Website for Pamela Hart:
May I Come In? available at www.CDBaby.com/PamelaHart, www.Amazon.com and other online digital venues on the web.